Edible Black Scorpion a.k.a Asian Forest Scorpion (Heterometrus Longimanus sp)
This bag contains one dehydrated and seasoned Heterometrus Longimanus Scorpion (Asian Forest Scorpion).
Our scorpions are sourced from farms in South East Asia that breed them specifically for human consumption. They are fed on a diet of crickets, worms and other farm raised insects.
The Heterometrus Longimanus Scorpions are common to most parts of Thailand and S.E. Asia and are a delicacy to those who live in the north-east of Thailand and S.E. Asia region. They are one of the few species that is known to be edible.
Scorpions are ancient animals and fossil records indicate that they were already in existence about 425 - 450 million years ago during the Silurian period and evolved from an amphibious ancestor.
Question: What do scorpions taste like?
Answer: Due to evolving from an amphibious ancestor their meat is similar in taste to the sea prawn. Some people say the taste is similar to liquorice without the sweetness, one person compared them to dark chocolate. The dehydrated version has a jerky like texture and is packed full of protein and vitamins, especially its exoskeleton which is high in calcium. If you decide to purchase them we would love to hear what you think.
The scorpions are ready-to-eat straight out of the bag and can be served with a variety of dips and sauces. We recommend a Thai sweet chili sauce.
This scorpion has been processed by flash freezing, cleaning, boiling and is then machine dehydrated for more than 24 hours. This process makes them extremely fragile so please take care when handling the package to avoid breakage.
All Thailand Unique products are manufactured in a GMP/HACCP accredited factory so you can be confident you are buying a safe and quality product.
Ingredients; 1 x Heterometrus Longimanus scorpion (approx 6g after dehydration).
Shelf life is approximately 1 year from the date of manufacture.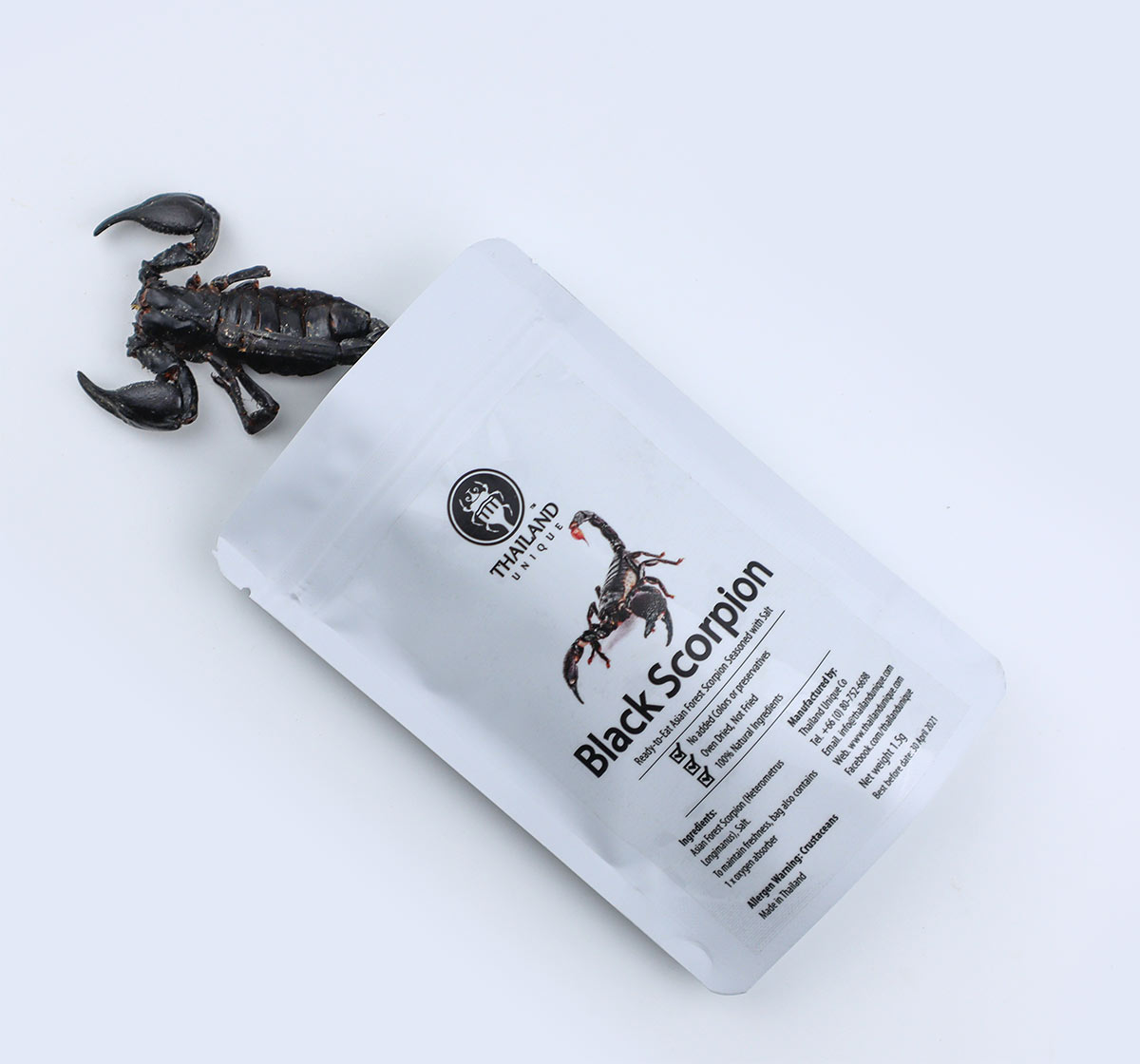 Edible Black Asian Forest Scorpion
$6.50

---

10 or more $6.00
50 or more $5.50
100 or more $5.00
Related Products
Tags: black scorpions, asian forest scorpions, edible scorpions
Recommended Products
Follow us on Instagram #thaiunique